If you're unlucky enough to be suffering from foot problems, you might be in need of a Podiatrist Worcester or a chiropodist. These are the professionals who can help with common foot issues such as bunions and ingrown toenails.
These professionals are trained health professionals who can help with advice, diagnosis, treatment and rehabilitation of the most common foot problems affecting the population. They can also deal with abnormalities of the lower limbs, help correct deformity issues, help to keep people mobile and treat infections of the foot. For help from a Podiatrist Worcester, go to Pro Podiatry.
If anyone in your family needs advice on how to care for their feet and the right type of shoes for your feet, a podiatrist or chiropodist can help. Wearing the right shoes is essential to prevent many types of foot problems occurring in the first place. Common foot complaints that might require the services of a podiatrist include:
Athlete's foot
Verrucas
Calluses
Fungal or ingrown toenails
Cracked heels
Bunions
Flat feet
Blisters
Heel pain
Gout
Sporting injuries
Podiatrists are able to help with many issues concerning feet, also including discoloured or thickened toenails, sole peeling, warts and disease-related foot care such as those with diabetes.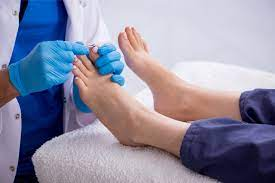 They are also able to supply orthotics that are bespoke to your needs. These include arch supports, insoles or padding to help alleviate arch or heel pain. Orthotic devices help to realign your foot position, relieving pressure from certain areas of the feet and make wearing shoes much more comfortable.