Copper Water Features
A copper fountain is a fantastic addition to your garden. If you have recently been doing some plumbing work, you can use the leftover pipe like this Watkins and Powis copper pipe to create your own unique water feature, which is easy to maintain and looks stunning in the garden. Be careful however of using copper pipe in a pond with fish in it as some creatures, especially koi carp, are very sensitive to copper in the water.
Painted Pots
Add a splash of colour to your garden and have fun by creating painted pots. Make sure that you use a paint that can withstand the outdoors, and go ahead with decorating some pots! This is also a fun activity to get the kids involved with and you can treasure the creations in the garden for years to come.
Make your Own Birdboxes
If you have some spare wood lying around, why not have a go at making some bird nesting boxes for the spring? It is a fairly easy thing to make and will provide birds who are looking for somewhere to rear their young with a safe spot to do it from.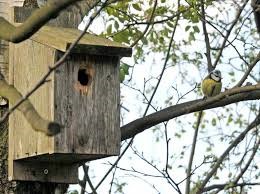 Create Some Mosaics
Use concrete to create your own garden paving slab mosaics. You can use a square dish as a mould and before the concrete sets hard, use bits of coloured glass and even gems to create designs on the concrete for some beautiful paving slabs that are unique to your garden!